The Past and Present of Cape Cod's Wings Neck
If you're not from the Cape and you've never heard of Wings Neck before, you're not alone. The community is a small area in the village of Pocasset, in the town of Bourne on Cape Cod. It jets out into Buzzards Bay, making it convenient for water-lovers, while still providing easy access to the highways heading to the mainland and other parts of the Cape.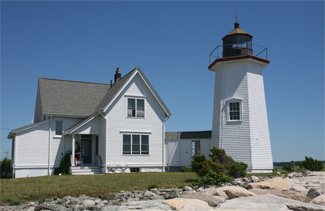 The strategic location of Wings Neck is the entire reason it was settled, as it became the location of Wings Neck Light, a vital lighthouse guiding boats away from its rocky shores and up Buzzards Bay to Sandwich and Wareham, starting in the mid-1800s. From there, people began building homes on the peninsula, and over time, it gained traction as one of the more exclusive areas on Cape Cod.
Those who have never been to this community before have a good reason, as you'd have very little reason to visit unless you live there or have been invited by someone who lives there. After all, there aren't any restaurants, shopping venues, or commercial properties of any type. Once you see the natural environment of this largely untouched piece of land, however, you're sure to fall in love and want to spend more time there, possibly even settling with your own family.
The History of Wings Neck
Wings Neck wasn't always an exclusive residential area, as it was notably swampy and infested with mosquitos, making it virtually uninhabitable. Since the swamp was full of iron ore, multiple companies set-up foundries to capitalize on its land.
The area, as was mentioned before, was also along a very lively shipping route. In the middle of the 1800s, a lighthouse was proposed to make the area safer for this shipping traffic. Wings Neck Light was built in 1849 and eventually became one of the most prominent beacons on the United States' East Coast, and the Atlantic Ocean as a whole, because of the sheer volume of ships coming through and needing guidance. When the Cape Cod Canal opened in 1914, traffic increased even further, and the lighthouse became even more vital.
People started settling on Wings Neck in the late 1800s, many of whom were transplants from others part of the Cape or Boston, due to the peninsula's proximity to the mainland. In fact, many original settlers were wealthy families from the Boston area who wanted a quiet neighborhood to escape to in the summer. Other pioneers came from other Cape Cod communities, moving to Wings Neck following a dispute over a delayed ferry boat. Details of this dispute are sketchy at best, but it remains part of Wings Neck lore to this day.
In 1903, the Wings Neck Trust established a set of rules by which residents of the area must abide, and many of these rules are still followed. Rules include what properties can be used for, the size of the buildings, and noise restrictions. For example, weddings were commonly held at larger properties on the peninsula, but since this violates the Trust, the board had no choice but to put a stop to it.
Thing to Do on Wings Neck
Since Wings Neck is mostly residential, there isn't much in the way of activities on the actual peninsula. Having said that, there is a yacht club offering sailing lessons on Pocasset Harbor, which is perfect if you want to get out on the ocean and learn how to participate in this local pastime.
Tennis is also pretty big in the area, and there is a court owned by Wings Neck Trust, just off S Road, that residents can use. Many private homes on Wings Neck have tennis courts, so keep watch for one of those listings if you're a tennis player.
Finally, the location of Wings Neck makes it easy to head to Pocasset, where you'll find Barlows Landing Beach, along with restaurants, parks, and a golf course. Despite the serenity you'll encounter on the peninsula, you're only a few minutes from the amenities of Bourne, as well.
Wings Neck's Famous Lighthouse
We touched on the famous Wings Neck Lighthouse earlier, but there are many great stories to go along with this historic venue. The lighthouse sits on two acres of land and has a private beach. Today, the tower is privately owned, so you can't visit without permission, although you can view it from the water.
Throughout its history, the house beside the lighthouse was inhabited by the keeper. The keeper is responsible for not only warning approaching boats about Wings Neck and guiding them through Buzzards Bay but also performing rescues when trouble arises.
For example, George Addison Howard became lighthouse keeper in 1921, and along with his brother, William, is credited with saving five lives in 1931 and eight more in 1932. It is said that William saved 37 lives on his own while acting as an assistant lighthouse keeper.
There's also a story where President Warren G. Harding was sailing on the presidential yacht off Cape Cod when bad weather made it impossible to carry on. The ship anchored just off Wings Neck and in the morning, Wallace Eldredge, the lighthouse keeper at the time, gave him a 21-gun salute-style sendoff with the fog bell.
In 1943, an automated lighthouse tower was constructed, putting an end to the era of Wings Neck Light. The history of the lighthouse, however, is as rich as the area itself and is well worth learning about if you're into marine legends or want more knowledge on this unique part of the Cape.
Houses on the Peninsula
Houses for sale on Wings Neck can be challenging to find, mainly because many homes are passed down from generation to generation. At the same time, listings do come available, and they usually have a few standard features.
First of all, most houses on Wings Neck have a large plot of land. In fact, it's not uncommon to end up with more than an acre of property when buying a home on Wings Neck, with some of the larger plots encompassing eight or more acres.
Additionally, many properties include private beach access, since there is water virtually surrounding the entire peninsula. Most properties are also hidden because of the dense layer of trees and brush throughout the whole area. If you don't know where you're going on Wings Neck, it's easy to get lost in the wilderness here, especially when you're away from the shoreline.
Wings Neck is another one of those extraordinary communities that you won't find anywhere else but on Cape Cod. For those who want peace, quiet, and exclusivity, while still having easy access to in-town amenities, Wings Neck is an absolute dream.