Living in Falmouth
Although Cape Cod's traditional identity is of a summer destination, there are exceptions. It's true that Falmouth has plenty to do in the summer, with beaches, sunshine, and plenty of outdoor activities, but the town is also a year-round destination.
This designation comes because many restaurants and attractions tend to stay open throughout the fall and winter, unlike on other parts of the Cape, ensuring residents always have access to all the necessary amenities.
The fact that Falmouth, Massachusetts doesn't shut down at the end of summer is excellent news for those looking to move to the area, as you won't have to worry about it becoming a ghost-town after the crowds return home in September.
Having said that, you'll find that summer brings the most action to Falmouth, since the town triples in size and its tree-lined Main Street is the place to be for shopping, dining, and all types of entertainment.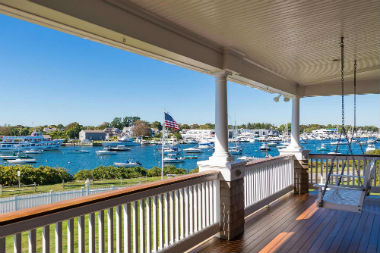 Beaches and Shoreline
There are 68 miles of coastline and 95 miles of shoreline, when you take the local kettle ponds into account, in Falmouth, so it's easy to see why the beach is the place to be. Even if you're not lucky enough to purchase a beachfront property, there's always at least one sandy area a short distance away, no matter where in town you live.
Beaches in Falmouth include Stony Beach, Wood Neck Beach, Old Silver Beach, Chapoquoit Beach, and Megansett Beach, on Buzzards Bay on the west side of Falmouth. In addition, Bristol Beach, Falmouth Heights Beach, Menauhant Beach, and Surf Drive Beach are on the town's south end, right on the Atlantic Ocean. There is also Grews Pond, which is very popular with locals because it is family-friendly with calm water and shade.
These beaches have parking areas, and most have lifeguards on duty, making them safe and straightforward to access. One thing to remember is that Old Silver Beach has a special section with parking for residents with a beach sticker, making it even simpler for those who live in Falmouth to get to the beach with as little hassle as possible.
The Various Villages
When speaking with locals about Falmouth, you'll often hear them reference the town's villages. The villages in Falmouth include North Falmouth, West Falmouth, East Falmouth, Falmouth Village, Hatchville, Woods Hole, Waquoit, and Teaticket, and where you choose to live is dependent on the lifestyle you wish to enjoy.
Into spending most of your time on the beach? West Falmouth and East Falmouth have an abundance of coastline that is easily accessible from many of the homes in those regions.
Want to be close to restaurants, shopping, and historic venues? Falmouth Village and Woods Hole are two popular neighborhoods that are close to many of the amenities found in the town.
Looking to commute to a larger city? North Falmouth and Hatchville are a short drive from Bourne Bridge so that you can get off the Cape and onto the I-195 into Providence or the I-495 into Boston within minutes.
Fancy being close to other towns on the Cape? Waquiot and Hatchville provide easy access to Route 28, which runs through Mashpee, South Yarmouth, South Dennis, Harwich, and Chatham before turning north toward Orleans, and the Mid-Cape Highway is also nearby.
There are benefits to living in each of Falmouth's villages, so have a look around and find a destination that best suits your needs. By the end of your search, you should be able to uncover what you're looking for somewhere in Falmouth and its surrounding area.
Historic Venues
There's a ton of history in Falmouth, starting with its historic districts. Falmouth Village Green, North Falmouth Village, Waquoit, and West Falmouth Village are all on the National Register of Historic Places because of their colonial-era houses and buildings. The scale of the historic venues in Falmouth turns living in the town into a form of time travel.
Davisville, Quissett, and Woods Hole are also historic districts, while ten sites, including Nobska Light, Teaticket School, Central Fire Station, Elnathan Nye House, and Crowell-Bourne Farm, are individually on the National Register. All of this history comes together in Falmouth to create a unique environment where historic architecture and modern conveniences blend to create a distinctive place to call home.
Distances and Directions
Since Falmouth is part of the Upper Cape area, it is less than 15 miles from Bourne Bridge and 20 miles from Sagamore Bridge so that you can get off the Cape in a matter of minutes. This bridge access makes it possible, although perhaps not ideal, to commute to larger centers for work.
Providence, for example, is about 70 miles from Falmouth's town centre. Under ideal conditions, you can reach downtown Providence in a little over an hour, so it's certainly possible to work in a major city while enjoying the scenery and beaches of Cape Cod every night.
Commuting to Boston is also a possibility, as the city's downtown area is about 72 miles away. The main issue with Boston is the traffic, which can turn it into an hour-and-a-half, or longer, drive. The alternative is to drive to the town of Middleboro, which is 37 miles away and get on the commuter train into Boston's downtown.
Although the commute does take some time either way, it's nice to know there is the option of living on Cape Cod while keeping your job in the city. And for a senior seeking property in a retirement community, being close to major cities in Rhode Island and Massachusettes provides plenty of reason to consider purchasing real estate in Falmouth, as well, since you'll always be close to entertainment venues and healthcare necessities.
Making the Move
If you're still on the fence about relocating to Falmouth, try stopping by to have a look around at the properties in the area. Those who live here believe it provides the best of the Cape because it is close to the mainland, yet off the main highway, so it avoids much of the traffic found in Bourne and Sandwich, while still providing the quintessential Cape Cod way of life.
You never know, having a look around might assist you in finding your dream home in the perfect community in this idyllic part of the country.