Gray Gables: The First Summer White House
The Gray Gables neighborhood in the town of Bourne has an incredible history dating back to the 1880s. Today, the area is perhaps best known for its large, scenic beach, but the region was once where President Glover Cleveland spent much of his free time, both while in and out of office.
Every contemporary American president has a place away from Washington to escape to, whether it's a cottage on Martha's Vineyard, a ranch in Texas, or a resort in Florida. That wasn't always the case, however, as Grover Cleveland is responsible for starting the tradition with his summer home in Gray Gables.
The footprint left behind by Cleveland remains to this day, as the neighborhood as a whole is named after the moniker he gave his former home.
If you're thinking about buying real estate in Gray Gables, continue reading to find out more about the history of this incredible part of the Cape, in addition to what the neighborhood is like today.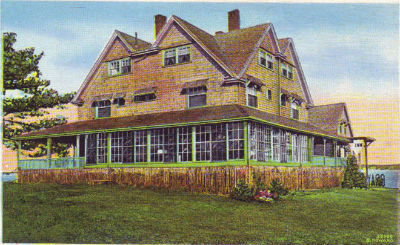 A Presidential History
The house that Grover Cleveland lived in was built in 1880 and formerly called Tudor Haven, after its original owners, the Tudor family. It was located at what is now 217 Presidents Road, overlooking Buzzards Bay and a short walk from the current Grey Gables Beach.
Cleveland bought the property on the advice of his friend, actor Joseph Jefferson, who recommended the area because of the outstanding trout fishing at the nearby ponds. Cleveland was an avid fisherman and loved spending time away from the bustle of the city. In fact, it is said that Cleveland would get thoroughly giddy any time he was able to get out of Washington and back to Cape Cod.
Upon purchasing the home and its surrounding 110 acres for $20,000 (the equivalent of over $500,000 in today's money), Cleveland renamed the home Gray Gables because of the many gables in its design and its dark color.
When Cleveland bought the property, he was a private citizen, having already served as president between 1885 and 1889. In 1893, he won another election and became the first and only president to serve two non-consecutive terms in office.
Having already fallen in love with Cape Cod, and his new home, in particular, Cleveland continued to spend his summers in the area. In fact, the original house of Gray Gables is recognized as the first summer White House.
The home's role as the summer White House meant new infrastructure became necessary. Before Cleveland was even elected, a direct telegraph was installed in the house, allowing him to communicate with advisers and follow the happenings in Washington, DC.
In 1892, Gray Gables Railroad Station was constructed on the Old Colony Railroad. This station was private, only being used by Cleveland himself and his inner circle, and providing them with quick, direct access to DC. The station is still standing to this day, although it has been moved to the Aptucxet Trading Post Museum in Bourne.
There was a dock built at the house, as well, which was home to a Navy gunboat. The boat protected Cleveland, as the home was right on the open water and easily accessible for passersby.
The end of Cleveland's time at Gray Gables was tragic, as his 13-year-old daughter, Ruth, died in the winter of 1904. At the same time, rumors of the Cape Cod Canal being built began swirling and not wanting to deal with construction around his home, Cleveland did not return to the Cape the following year, instead choosing to rent it out for the summer. In fact, Cleveland would never stay at Gray Gables again before his death in 1908.
The family held onto the house until 1920 when his son, Richard, sold it. The property later became an inn and restaurant before burning down in a massive fire in late 1973. The lot remained vacant for decades, but a private home with many of the same features as the original Gray Gables was constructed in 2006, bringing history alive in this incredible neighborhood. You can't visit the home, but it is visible from Gray Gables Beach on a sunny day.
Gray Gables Beach
Today, Gray Gables Beach, one of Grover Cleveland's favorite locations, is very popular with local residents. Not only is the beach large and scenic, with views out over Buzzards Bay, but it's also a great spot to watch the ships go by as they head into the Cape Cod Canal.
From the shore, you can go for a swim or take a kayak or canoe out into the ocean for a paddle. There's also a road running past the beach that is perfect for a bike ride out to Mashnee Island. The journey is about three miles roundtrip, and the street is usually pretty quiet. After exiting the beach, get onto Mashnee Road and follow it as far as it goes. As you get closer to the island, you'll notice sections of scenic, secluded beaches where you can stop, and you will be able to enjoy the open water on both sides of you for a stretch.
Keep in mind that parking is limited at the beach and you'll need to purchase a parking sticker in advance if you want to leave your vehicle there for any amount of time.
Living in Gray Gables
Gray Gables might not be one of the better-known neighborhoods on Cape Cod, but it certainly has an outstanding history to call its own. The area is mostly residential, and therefore quiet, but it does have a grocery store on Shore Road called Gray Gables Market, along with a bar across the street called VFW Post 5988. The bar is a Veterans of Foreign Wars establishment, but many events are open to non-members. Live music and karaoke are common on weekends.
There's also the Lobster Trap Restaurant on Shore Road, a classic seafood shack right on the Back River. The establishment has a patio, too, making it a pleasant place to enjoy a drink and some freshly-caught seafood in the summer.
And, of course, the neighborhood is a five-minute drive from Bourne Bridge, making it easy to reach the mainland from this location. That ease of access might be one reason why Grover Cleveland chose the area in the first place and unquestionably is a consideration for those who wish to live on Cape Cod while commuting to Boston or another large center for work.
Whether you're looking for a summer home near the beach or a permanent residence in a quiet community, Gray Gables has everything that you're seeking, and more.