Continued Growth on South Coast
Osterville, Mass., August 1, 2017 – Kinlin Grover Real Estate, a division of one of the nation's largest privately owned residential real estate brokerages, The Randall Family of Companies, announces today its merger with Hopps Realty Group, forming Kinlin Grover Real Estate, Dartmouth office, located in the heart of Padanaram Village in South Dartmouth, Massachusetts.
The merger will also result in the formation of Kinlin Grover/Hopps Real Estate School, previously, Hopps Realty School, an acclaimed training organization for real estate agents in the New Bedford and South Coast area. Linda Hopps, former President of Hopps Realty Group and a licensed real estate instructor will continue to run the school.
"We are very excited to be working with Linda Hopps and her dedicated and experienced team of professionals at Hopps Realty Group," said Michael Schlott, President, Kinlin Grover Real Estate. "Linda's deep industry knowledge and her strong ties to this area will strengthen our brand and increase our ability to provide the best services possible in this market."
"We're thrilled to bring Kinlin Grover's award winning expertise and service to more sellers and buyers on the South Coast," said Ralph Grassia, Kinlin Grover Regional Manager and former President of the Greater New Bedford Association of Realtors and Southeastern Mass MLS.
"This merger will allow us to grow and take full advantage of the technology, world class marketing and training provided by Kinlin Grover," said Linda Hopps, President, Hopps Realty Group. "We serve a very special area and now our buyers and sellers will have the benefit of the all the tremendous resources that the Kinlin Grover family of companies has to offer."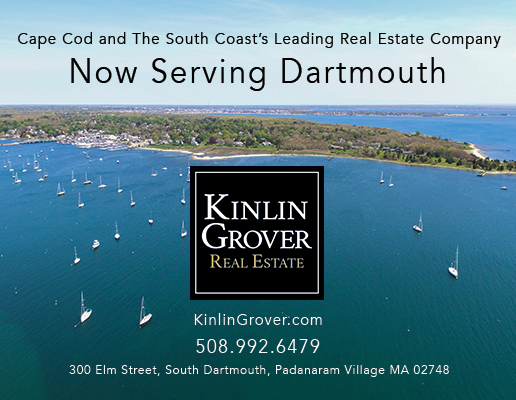 "This is a dynamic merger," said Steve Lewin, new Branch Executive for the Dartmouth office. "Hopps Realty Group has a platinum reputation and a deeply rooted understanding of the region. Combine that with the sheer power of the Kinlin Grover brand and the next generation tools provided to our agents, and you have a winning combination."
Last month, Kinlin Grover announced its merger with BK Realty of Cape Cod and just recently, the company announced several major innovations to better serve its clients and agent community, including a redesigned brand identity and a new alliance with Leading Real Estate Companies of The World®, adding significant global presence to Kinlin Grover's strong brand and allowing its agents to benefit from the largest real estate network in the world. Leading Real Estate Companies of The World has 130,000 agents and 565 companies in 65 countries around the globe. This selective, membership by-invitation-only network transacts over $351 billion in sales annually.
In 2016, Kinlin Grover acquired Ridge Realty, which serves homebuyers and sellers inside and outside the gated Ridge Club in Sandwich, Massachusetts. The firm is now known as Kinlin Grover Ridge Realty. The company has also expanded off Cape Cod with offices in Plymouth and Marion, Massachusetts.
About Kinlin Grover Real Estate and The Randall Family of Companies
Kinlin Grover Real Estate, recently recognized with the national QE Award for extraordinary customer service, is among America's Top 35 real estate brokerage firms based on service excellence according to Quality Service Certification, Inc. (QSC), creator of the award. QSC measures and independently verifies excellence in the delivery of the highest levels of customer satisfaction and service quality in real estate in North America.
Kinlin Grover specializes in the marketing and sale of waterfront, village and luxury homes. No other Company serves more buyers and sellers across Cape Cod and Coastal Massachusetts. In addition to residential sales, Kinlin Grover Vacation Rentals is the largest vacation rental firm on Cape Cod with over 750 rental properties. Kinlin Grover also operates a highly successful Commercial Group with five offices located in Falmouth, Plymouth, Mashpee, Osterville and Orleans. For more information, visit www.kinlingrover.com.
Headquartered in Charlestown, RI, The Randall Family of Companies ranks among the top real estate firms in the United States. The Company is comprised of 31 offices that span three states and includes Kinlin Grover Real Estate on Cape Cod and Coastal Massachusetts, Randall Realtors in Rhode Island/Connecticut, and Page Taft Christie's IRE in Connecticut. The Randall Family of Companies twice named one of Inc. Magazine's Fastest Growing Companies in the U.S. and with over $5 billion in annual sales in the last three years are a RIS Media Power Broker and a Real Trends Top 500 Real Estate Company. www.randallfamilyofcompanies.com.