Bourne, a Cape Cod Gateway Village
The town of Bourne was originally settled in 1640 and was a part of the town of Sandwich until it became the last town to be incorporated in Barnstable County in 1884, named after Jonathan Bourne Sr. Bourne is the site of Aptucxet Trading Post, which is the United States' oldest store, and was founded by the Pilgrims in 1627. The trading post eventually became the site of the Cape Cod Canal, dug in order to save sailors the time and danger of sailing around the Cape entirely.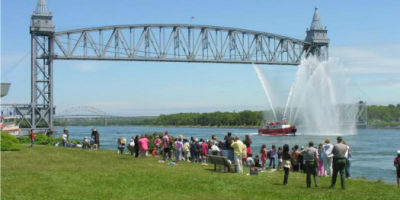 Bourne is located on both sides of the Cape Cod Canal and is home to the Bourne, Sagamore and Cape Cod Canal Railroad bridges. Because it is the first town that one passes through when entering Cape Cod, it is sometimes considered the Cape's "first" town, despite being the last Cape town incorporated. Aside from the Canal, Bourne's shores touch the Cape Cod Bay to the north and Buzzards Bay southwest. The eastern part of town is owned in large part by Otis Air National Guard Base.
Bourne is a mid-sized and relatively quiet community that experiences less of the summer rush than other towns on the Cape. It's characterized by the Cape Cod Canal, which splits the town in two and is operated by the Army Corps of Engineers, as well as the large Otis Air National Guard Base that covers much of the town's eastern land area. The Massachusetts Maritime Academy, established in 1891, is also located in Bourne and is the second oldest state maritime academy in the country.
Bourne's school system has four schools: Peebles Elementary and Bournedale Elementary (serving grades one through four), Bourne Middle School and Bourne High School. Upper Cape Cod Regional Technical School is located here as well. Private schools in Bourne include: Saint Margaret's Regional in Buzzards Bay, Bridgeview School in Sagamore, and the Waldorf School of Cape Cod. Bourne is also home to the Massachusetts Maritime Academy, the United States' second oldest maritime academy.
The arts and culture of Bourne are served by the Bourne Cultural Council. Art galleries like Gallery 333 and Day Hill Fine Art dot the town near Buzzards Bay. The Cataumet Arts Center offers gallery space for artists and the community at large to enjoy exhibitions, gallery talks, classes, studios and more. The Bourne Historical Society maintains Old Bourne Village, where visitors can enjoy historic properties and structures as well as the Aptucxet Trading Post Museum.